---
About Es'hail-2 / QO-100
The geostationary satellite Es'hail-2 carrying amateur radio transponders launched from Kennedy Space Center at 20:46 GMT on Thursday, November 15, 2018 and is now in a geostationary orbit at 25.9 deg East. The transponders should link radio amateurs across a third of the globe from Brazil to Thailand.
Following commissioning of the satellite on February 12, 2019 the Qatar Amateur Radio Society (QARS) invited radio amateurs worldwide to use the Es'hail-2 / QO-100 narrowband transponder Qatar OSCAR-100 is the first geostationary amateur radio transponder, a joint project between the Qatar Satellite Company (Es'hailSat), the Qatar Amateur Radio Society (QARS), and AMSAT Deutschland (AMSAT-DL) which provided the technical lead.
OSCAR-100 is hosted on Es'hail-2, a Broadcast Transponder Satellite owned by the Es'hailSat Qatar Satellite Company, the satellite is now in geostationary orbit at 25.9 deg E.
As a Ham, I salute Qatar Amateur Radio Society, The Qatar Satellite Company, amsat-DL, all the organisatons, officials, Hams in general who have contributed to this great project and specially who are monitoring and operating this Satellite and exchanging technical reports.
de VU2FI Sathyapal.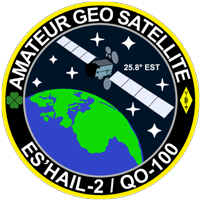 Search in this web site
October10, 2019
GM to all,
On Tuesday, 10th October 2019 early morning I along with Mr Ramesh, VU2YE drove to meet Mr Saravan, VU3OBR Satcom expert residing in Salem, Tamil Nadu. It was suprise to see my good friend Mr Subbu, VU2NSL who came from Cochin to meet Mr Saravan.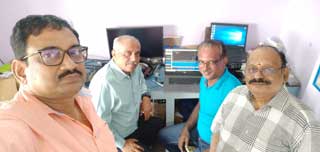 All three of us had good tutorials from Mr Saravan, VU3OBR on Es"hail Satellite -2 QO-100 (Geostationary Satellite Esh'Hail-2 carrying amateur Radio transponder.
Amateur Radio Experiments is never ending hobby nor there is an end for learning especially in wireless communications. There are experts in Ham Radio who have decades of practical experience.
Though I came to Amateur Radio world during 1993, still long way to go and need to explore many technical aspects. In this connection, got few hardware including LNB kit, 120 cm "Solid Make" dish, good cable to receive signals, RTL SDR V3 (was offered free by Mr. Priyasolka Arya, VU3BCN). Up-converter and PA is yet to receive from Mr Saro.
To my present Ham Radio Station these hard wares will help to establish and to operate this satellite which links at least 40 countries at any given time (Hot line)
Now, my first setup to this project,I am listening on Web-SDR the morning roll call net conducted every day between 7 am & 7.30am by VU3OBR. Few Indian stations I heard are VU2ELD, VU2ICI, VU2NSL, VU2XTO were 59 (clear audio). Net control was kind enough to acknowledge my logging as VU2FI.
Thanks Mr Saro for your time spent whole day and offering good lunch and tea. I assure your valuable time as netcontrol on QO - 100 will be valued with more number of VU Hams in coming days. Best wishes to Qatar Amateur Radio Society.
Public Service through QO-100
What ever projects we do, second thought is Public Service:
With Mr Saravan, discussion on emergency communication through QO-100 satellite will also further boost the Amateur radio in India. It is a dedicated 24 / 7 network, if QO-100 are established at disaster site and other places where ever it is required. Any one can listen the conversation on smart phones. We need to draw a plan of action to promote at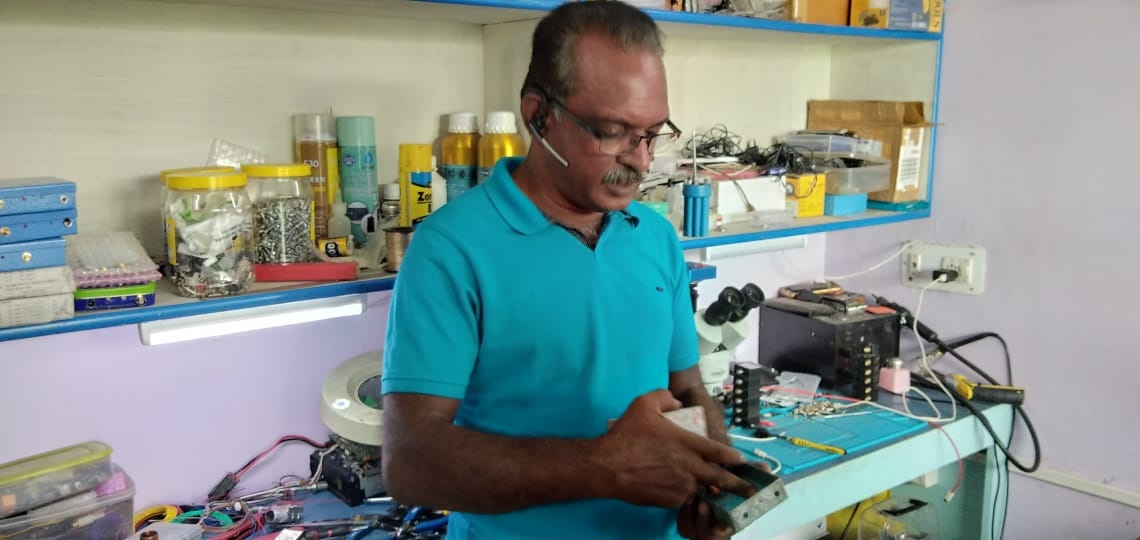 different levels both at Government and NGOs of- course Ham Clubs. It is not only Satcom, VHF, UHF, HF can play vital role during crises. Question of failure will not be heard if network is defined and established properly.
Mr Sararvan (Saro), VU3OBR is very knowledgeable technical and supporting Satcom Ham in this VU land. Any Ham / Ham organisation can expect the technical support from this gentlemen.
Conclusion: Anybody can listen amateur radio bands but please underline this "As a common citizen, Only Ham Radio Operator (HAM) empowers to setup radio station and explore transmission on VHF, UHF, HF and Satellite Communication on this earth.
73 Dr. S.Sathyapal, VU2FI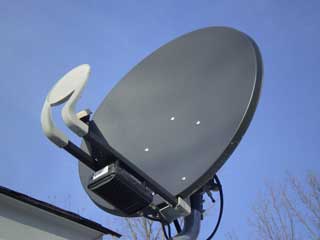 picture courtsy: amsatuk.org