TECHNICAL FIELD DAY BY REVA UNIVERSITY HAM RADIO CLUB and INDIAN INSTITUTE OF HAMS at Kolli Hills, Tamilnadu, FEB15-16, 2020
Location:
Kolli Hills is one of the beautiful places, situated in Namakkal District of the state of Tamil Nadu, SOUTH INDIA. This beautiful location is referred to as the Kolli Malai, and it means the 'Mountains of Death.' The hills are over almost 1000 to 1300 meters in height that cover more than 280 sq. Km. You will get nearly 70 hairpin bends, which take the tourists to the top of the hill. Furthermore, the hills are actually the part of discontinuous Eastern Ghats. The early Hindu literature talks about the actual existence of the Kolli Pavai ghost on the top of these hills and in this way, they have earned the ultimate destination this name. This image or spirit used to tempt the wayfarers and kill them. So, if you are a travel buff, you would surely love to roam around the entire place to explore the beauty of nature as well.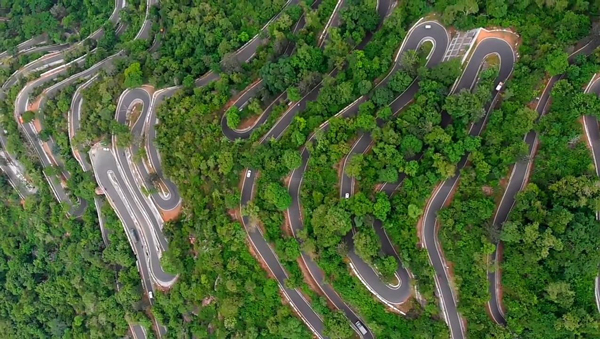 Birds eye view of the GHAT Road to Kolli Malai.
Participants:
Reva University, School of ECE under the banner "REVA Ham Radio Club", faculty members and students participated in this field day. Total team were 22 HAMs and 13 SWLs.= 35 members crew. We left Bengaluru on Saturday morning around 5.30 am via Salem and reached Kolli hills in the afternoon which is around 290 kms from Bengaluru. After having good lunch at SILVER LINE RETREAT HOTEL we started erecting antennas. Drive to Kolli Hills was scenic with 70 hairpin bends.
The35 member team includes 5 memeber team from Indian Institute of Hams (IIH), VU2 FI Dr.Satyapal, VU3OBR - Saro, VU3JYT Rajan, VU3OIM Venkat and SWL Suganya. IIH team helped the Reva team to install antennas and established the radio stations. VU2IIH was the radio station operated on this Field Day.
Activities focused :
Setting up VHF, HF, QO-100 ground station, tuning HF antenna Inverted "V". We erected the antennas and station was QRV from 1700 hrs onwards. One side VHF, HF and digital modes and on other side Q0-100 supported by Mr Saro, VU3OBR. On VHF, we had access to Yercaud Repeater 145.850 (minus), Kodai repeater, 145.150 (plus), Udumalpet repeater 144.900 (Minus), Coimbatore repeater 145.800 (minus). Chennai repeater 145.775 (minus), Nilambadi repeater. 145.650 (minus).
Setup (Table:1) Es'hali Qatar Oscar - 100 (QO-100) setup: LOCATOR : MK91eg SETUP: OFF SET 90CMS DISH, POTY FEED ANTENNA, IC 706 MK IIG, SATCOM UP CONVERTER, SATCOM PA 4 WATT OUTPUT Rx RTL DONGLE, SDR CONSOLE SOFTWARE
Setup (Table:2) VHF: GT 5/8 anntena with ICOM IC 7200 HF for phone and digital operations: Antenna: Inverted "V" for 20m / 40 m with IC-7300

VU3JYT Rajan helps the REVA Hams to install the 5/8 antenna for the 2m Band. The Antenna was installed on 10m mast. The inverted "V" antenna for 20m and 40m were also inatalled on this mast.

VU3OIM Venkat explains about the various antennas after their installations.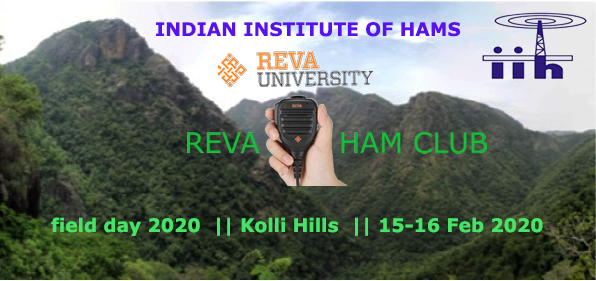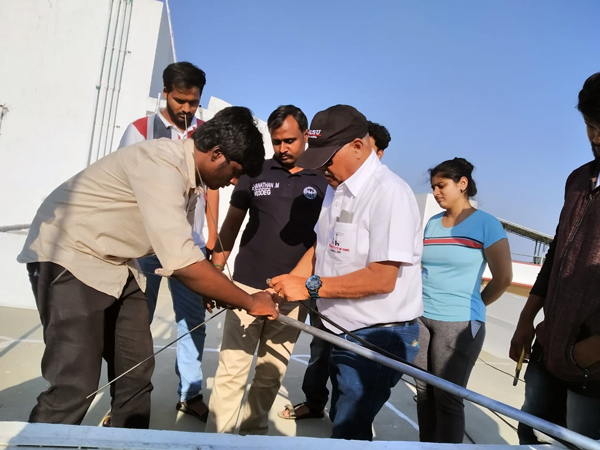 Installations: VU2FI Satyapal helping the REVA Hams to intall the antenna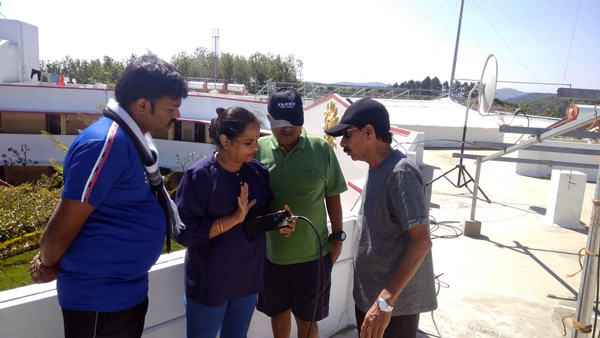 Tuning the Antennas: Bharathi VU3UMQ checks the SWR of the installed antennas while VU2FI Satyapal and VU3JYT Rajan look on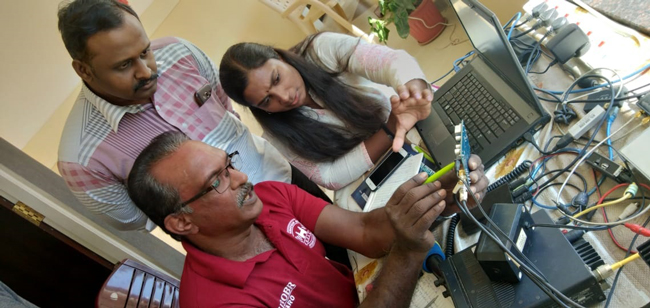 VU3OBR - Saro explains the QO-100 Satcom on the field day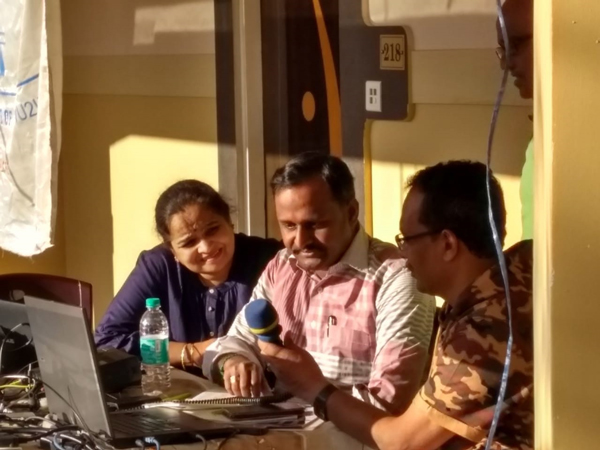 Reva Hams are operating the VU2IIH station on QO-100 and many QSOs are made on the field day.


VU3OBR Saro Checks the QO-100 installation in the Ham station VU2IIH and VU2FI makes the first QSO in Satcom, on the field day.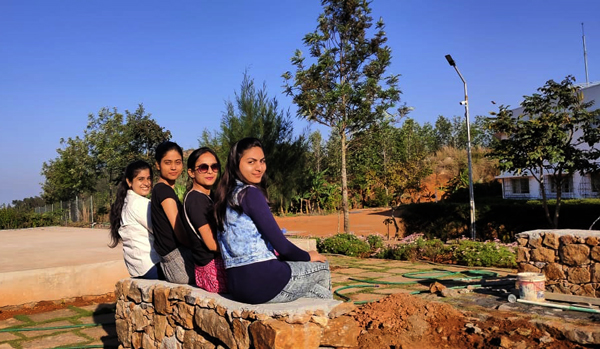 ACKNOWLEDGEMENT: The Pictures and videos published here are contributed by the Members of REVA Ham Radio Club.
Search in this web site
Field Day 2020
Main attraction of the field days was setting up Qatar Oscar-100 ground station and real time operations. More than 120 Dx contacts were made apart from few VU stations like VU2GMN, VU2NSL, VU2KPR, VU2RTF, VU2ELD etc. Germany, Russia, Africa, Netherlands, Spain, Switzerland, Poland, Italy, France, Greece, Solva Republic etc. All the stations reported 59+. It was the celebration of 1st year anniversary of QO-100 Geo Stationary Satellite by VU2IIH.
Apart from regular operators like VU3OBR, VU2FI, VU3JYT, VU3OIM, VU3OEG and other participants were given chances to establish contact via QO-100 Geo Sat. We operated on digital mode FT8 and also made contacts of VHF and HF.
Main focus and attraction of Field day was QO-100 Satellite communication operations. Thanks to Mr Saro, VU3OBR SATCOM for setup ground station and supporting this event. The Managing Director, SILVER LINE RETREAT HOTELS (P) LTD gave good external support.
We wound up around 11am on Sunday 16th Feb. 2020. After debriefing, we left Kolli hills at 12.30pm all participants safely reached home by evening.
Outcome of the Field day:
Part - I
Setting up antennas and ground station in short time.
Real time operations all modes
Net activities on VHF and HF. 4.QO-100 Dx operations getting 59+.reports from almost all the ground stations.
Part-II
REVA University Ham Radio Club will be setting QO-100 Satellite ground Station.
Indian Institute of Hams will be setting up QO-100 Satellite ground station at Kanteerava Outdoor Stadium very soon and encouraging our members to operate.
Few other Hams like VU3OIM, VU3JYT are thrilled and focusing to setup ground stations soon.
Benefit to the District administration & Nation:
Indian Institute of Hams in association with Department of Youth Empowerment and Sports, Government of Karnataka apart from VHF, HF, we will soon have Satellite mobile / portable setup to support any emergency under crises communication management.
Conclusion:
IIH will further popularize Ham (Amateur) Radio amongst the educational institutions and others to setup Ham stations and Ham Labs to conduct experiments in the field of amateur radio. Also specially to assist nation during distress on Communication Management. Thanks to the Reva University Chancellor, Vice Chancellor, School of ECE and to our Satcom technical friend Mr Saro, VU3OBR for this wonderful enjoyable technical field day.

On these twodays, Hams were able to find some leisure and spent by playing, Cricket, Trekking and they went to nearby water falls. Some pics are placed here.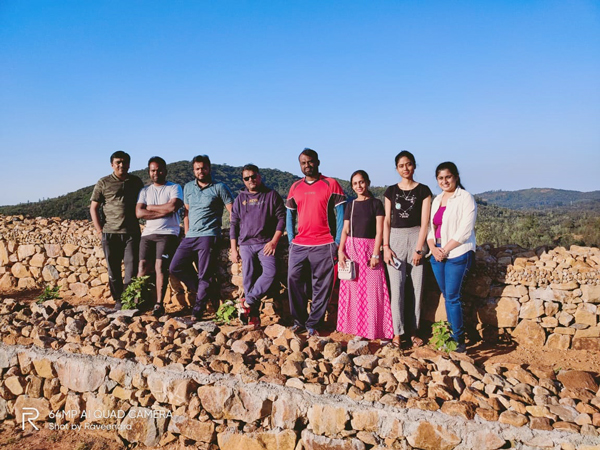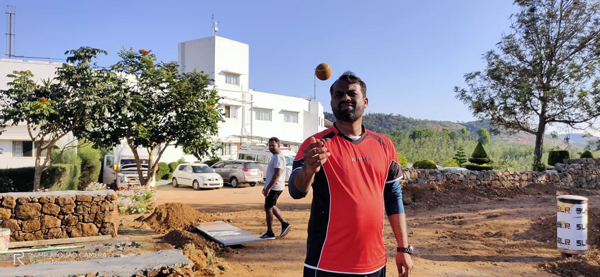 Some useful Links to know about Eshail Satelite and about QO-100
https://eshail.batc.org.uk/

https://amsat-uk.org/satellites/geo/eshail-2/