About us
INDIAN INSTITUTE OF HAMS (IIH) was established as a registered trust in 1993 for promoting Amateur (HAM) Radio in India, has reached yet another milestone of completing 25 years of continuous service. IIH is founded by Dr. Sathyapal, VU2FI and Sri. R.J.Marcus VU2VTM
IIH is actively associated with Department of Youth Empowerment and Sports, Government of Karnataka having established Ham Radio Station and training centre at Kanteerava Outdoor Stadium, Kasturba Road, Bengaluru -560 001, India.
Indian Institute of Hams is affiliated to National Institute of Amateur Radio (NIAR), Hyderabad and Institutional Member, Amateur Radio Society of India (ARSI).
Since inception, IIH has made tremendous strides in awareness on amateur radio and increasing population of Hams by approximately 10000 hams in INDIA, with its members spread all over the world. From its early days, IIH was well recognized for its activities and received "RAJIV GANDHI AWARD" for two consecutive years in 1995 and 1996 for best promotion of ham radio activities in India, award was presented by Smt. Sonia Gandhi who is also a Ham with a call sign VU2SON.
---

IIH goes Digital: instalation of QO-100 in IIH is in progress : News letter from VU2FI Dr. S.Sathyapal, VU2FI Director.
Bangalore: 23rd Feb 2020.
Good morning to all.
As you are all aware of IIH activities posted on IIH group, VU2FI shack is equipped with Ground station to operate QO-100 and digital modes. All my exercise is to promote Ham Radio amongst the educational institutions.
Now IIH is all set to receive signals via QO-100 GeoSatellite. Hardware for transmission is on pipeline and soon it will be installed. This will be a portable setup. Ground station QO-100 can be installed within 60 minutes approximately. It can be used to contact VU-hams and Hams from 40 other countries with 24/7 connectivity.
I am ready to spend more money on this, as this will popularize, increase awareness and motivate usage of Ham Radio in our country. (IIH classroom is digitized with support of VU3CGJ & VU3XFE both are GC members).
QO-100 setup @IIH will be accessible to our members to operate on notified days. Though many Ham clubs in India are very active and doing Ham radio promotions, IIH is sounding great amongst Dx Hams through QO-100. Thanks to SATCOM Mr.Saravan - VU3OBR for continuous technical support, Mr.Ramesh - VU2YE Asst.Director(Technical) for physical presence and support, Mr.Rajan - VU3JYT for overall support. IIH will recognize them in suitable platform.
We will also plan soon to inaugurate Ground station QO-100 at IIH through our Chairman. IIH will work and promote Ham Radio in a educative way, keeping the high standards of this wonderful technical hobby.
Regarding ARSI Field Day and Hill top DX-ing, though few reminders were sent to groups to setup and operate HAM Radio on that day, no body responded. VU2FI, VU3JYT, VU3OIM and probably VU2YE will be on "HAM YATRA" driving till Shirdi, carrying mobile HF and portable QO-100 setup. Station will be setup at SHIRDI AMATEUR RADIO CLUB, Maharashtra state on Saturday 29th Feb 2020 to operate and demonstrate QO-100 to Shirdi Temple authorities and district administration.
We will be meeting few notable Hams enroute and attend Pune Hams club meet on 1st March 2020. IIH will also promote and demonstrate to District administration in various districts of Karnataka on Communication crises management.
73
Dr.S.Sathyapal, VU2FI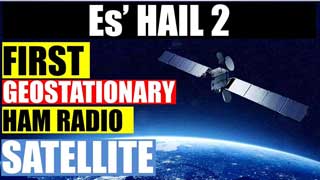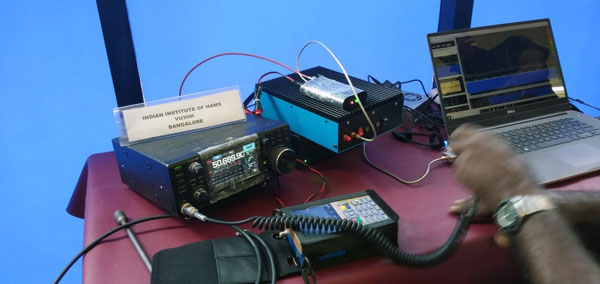 QO-100 installation and rady for a QSO in IIH Club Station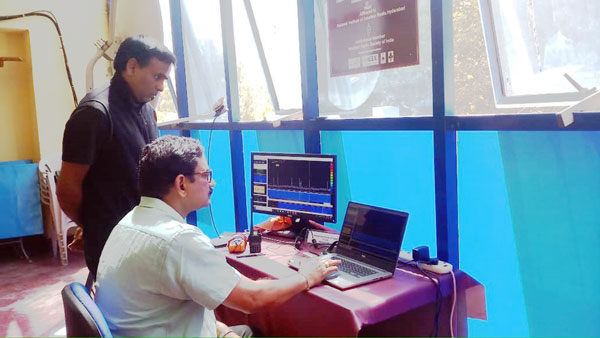 QO-100 installation in progress by VU2YE and VU3OIM looks on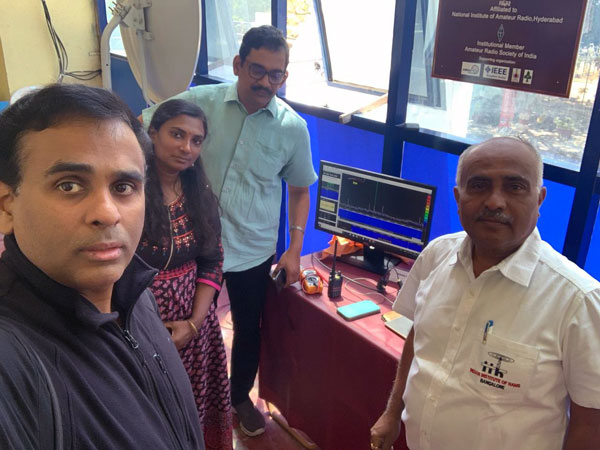 QO-100 installation team

Thanks VU3OBR for remotely helping, VU2YE, VU3OIM, Suganya, SWL. VU2AVG getting S8, thanks Avanish. TX will be set within two - three days time. This will be portable QO-100 setup for IIH. 90cms Solid make Dish on tripod stand, poty feed antenna, RTL SDR dongle.
Search in this web site
Bangalore: 25th Feb 2020.
Today portable Ground station was set to Rx and Tx signals through QO-100 Geo sat.
First transmission was successful by VU3OBR contacting 4Z1TL Israel.
VU3OBR from Salem has come to IIH and spent more than few hours at IIH and training us to setup portable station for demos and emergency operations.
IIH is equipped with required hardware and first portable ground station will be setup for Shirdi Amateur Radio Club, Shirdi, Maharashtra state on Saturday 29th ARSI Field day.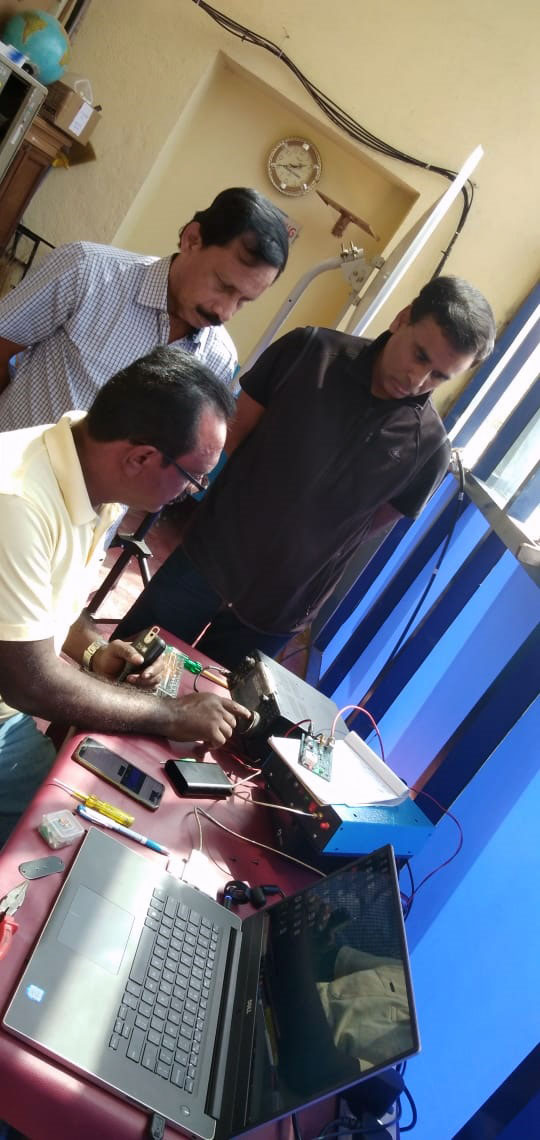 QO-100 installation being done by VU3OBR at IIH, VU3JYT Rajan and VU3OIM Venkat are keenly observing the instalation process. They will be helping VU2FI to set up a mobile QO100 station at Shirdi.
IIH thank Mr Saro, VU3OBR for his continuous technical support