About us
INDIAN INSTITUTE OF HAMS (IIH) was established as a registered trust in 1993 for promoting Amateur (HAM) Radio in India, has reached yet another milestone of completing 25 years of continuous service. IIH is founded by Dr. Sathyapal, VU2FI and Sri. R.J.Marcus VU2VTM
IIH is actively associated with Department of Youth Empowerment and Sports, Government of Karnataka having established Ham Radio Station and training centre at Kanteerava Outdoor Stadium, Kasturba Road, Bengaluru -560 001, India.
Indian Institute of Hams is affiliated to National Institute of Amateur Radio (NIAR), Hyderabad and Institutional Member, Amateur Radio Society of India (ARSI).
Since inception, IIH has made tremendous strides in awareness on amateur radio and increasing population of Hams by approximately 10000 hams in INDIA, with its members spread all over the world. From its early days, IIH was well recognized for its activities and received "RAJIV GANDHI AWARD" for two consecutive years in 1995 and 1996 for best promotion of ham radio activities in India, award was presented by Smt. Sonia Gandhi who is also a Ham with a call sign VU2SON.
---
New ASOC exam classes
HAM RADIO Classes will be conducted only on SUNDAYS:
Gate No: 3, First floor, VIP Hall, Kanteerava OUTDOOR stadium, Kasturba Road, BENGALURU-560 001
REGISTRATION FOLLOWED BY REGULAR CLASSES:
On Sunday, 15th December 2019 Registration starts from 9.30am to 10.15 am. Class will commence from 10.30am Two more classes on Sundays : 29th December 2019 & 5th January 2019 between 9.30 am - 3.00 pm. Dates are subject to change.
Note: Batch consists of 3 to 4 classes considered as one batch. ONLY 50 SEATS are available.
For Admission:
Please carry three passport size photos, Photocopy for date of birth proof: Passport or X standard Marks card or date of birth or aadhar card (Any one of these)
Training Schedule:
8th December 2019: Introduction to Ham (Amateur) Radio with live demonstration & interaction. 15th November 2019: (9.30am to 3.00 pm)
Ham Radio rules, regulations and operating procedures.
Basic Elections: Semi conductors
Communication
Radio Propagation, Aerials and Transmission lines.
Requirements:
1) Three Passport size photos.
2) Date of birth certificate (Copy of SSLC Marks card, Passport, Certificate from school principal stating date of birth as per the records). No other documents are valid for examination. Attested copy signed by Govt. Gazetted officer only
3.Examination for this batch will be conducted during April 2020 (provided applications are required in time with all enclosures) by the Ministry of Communication and I.T., Government of India for grant of HAM (Amateur) Radio Operating license,
Registration Contact: Dr. S.SATHYAPAL, Director-IIH
Cell: +91 94483 02677 or e-mail: ham7388@gmail.com

Winners of the Fox hunt 2019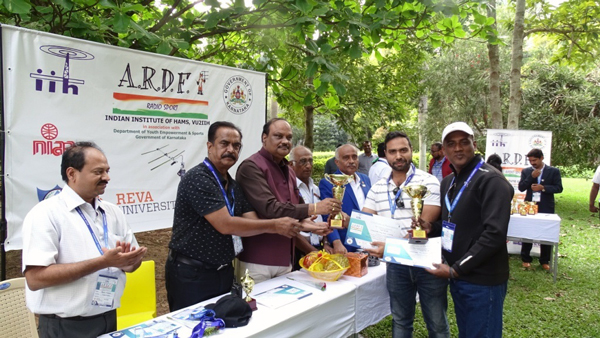 First place: Mohd. Asif Khan VU3JVY & Mohd. Ali Junnah VU3XMA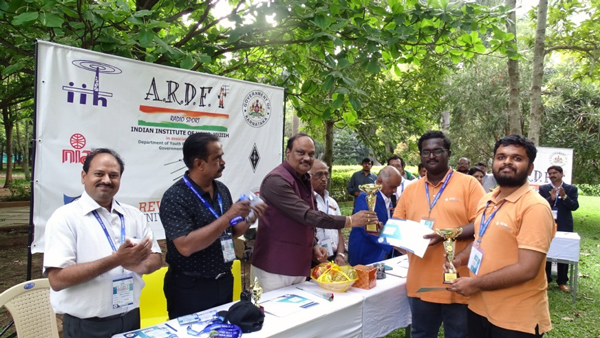 Second place: G.S.Adithya VU3ULQ & Ajay.V SWL Reva Team.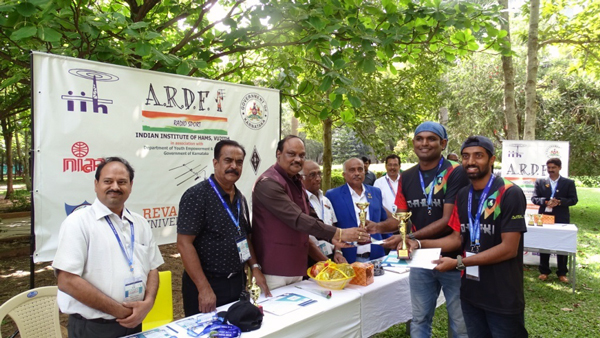 Third place: Avinash VU3WTT & Harsha M Krishna VU3WSZ .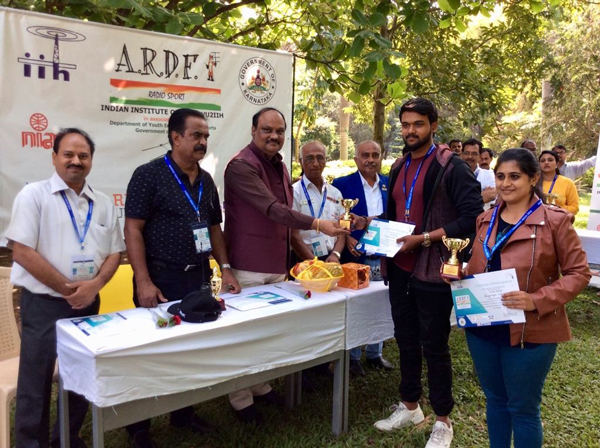 Fourth place: Vinith Kumar VU3WTT & Saujanya VU3UFT .
Fifth place: Dr. M.Devanathan,VU3OEG & Ramesh.M.S SWL Reva Team


REPORT: ARDF the Radio Sport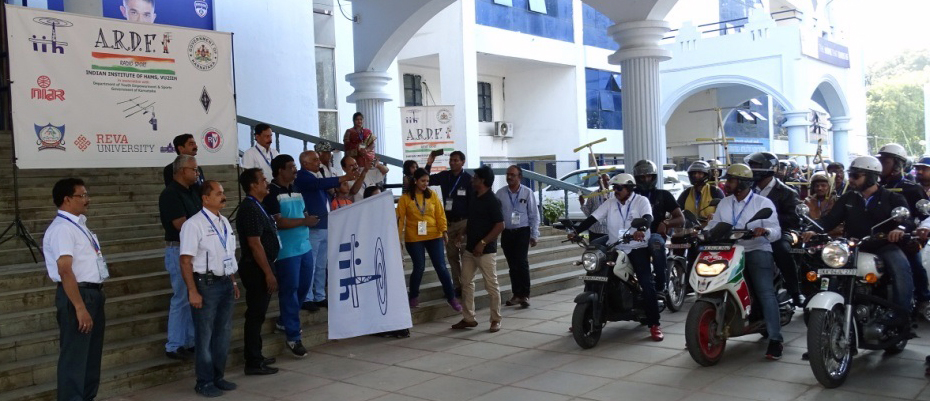 ARDF - RADIO SPORTS - FOX HUNTING HELD ON SUNDAY 17TH NOVEMBER 2019.
ARDF was organized in association with Department of Youth Empowerment and Sports, Government of Karnataka, REVA University, RV College of Engineering, Indian Public School, Tuverkere, Tumkur District, National Institute of Amateur Radio, Amateur Radio Society of India and IEEE, Bengaluru section. Total teams : 45 with 118 participants.
Shri. K. Srinivas, IAS Commissioner for Youth Empowerment and Sports, Government of Karnataka addressed all the participants, spoke about importance of Ham specially for youth and role played during recent cyclones. Mr Ramesh Kumar, VU2LU President- ARSI, Mr Ram Mohan, VU2MYH Director-NIAR, Mr B.A.Subramani, VU2WMY from Upagraha Amateur Radio Club, ISRO, Dr. R.V.Siva Reddy, VU3UFF, Asst. Profession Mrs Usha Rani- VU3DGC, Dr. Rudrayya Hiremath-VU3IGP Chairman, Indian Public School, Sri R.J. Marcus, Director-IIH spoke words.
Hon'ble Commissioner flagged off the teams at 9.30am. Three whatsapp locations was Shared for participants and instructed to reach any one particular location to take the bearing at 10am. Fox was located on Akkamma Hills, Bagalur ( International Airport side) approximately 7 - 8 kms from the given locations. Foxes: Mr R.Manjunatha, VU3CJM & Mr Bharath, VU3VXX. Most of the hunters were able locate the fox within 60 minutes. Our idea was to make it simple specially for novoice participants.
Around 12.30pm prize distribution was organised at REVA UNIVERSITY which was around 7 kms from fox hole: Dr. S.Y.Kulkarni, Vice-Chancellor, REVA University was the chief guest. Every participant was honoured by a certificate given away by VC, we honoured the support extended by few members like FOXES (VU3CJM & VU3VXX), VU3IGP, VU3JYT, SP Family, NIAR Team (traveling all the way from Hyderabad for fox hunt), VU3HDP Radio Sport Observer, Dr. Siva Reddy, VU3UFF (taking care of PD & Food).. Trophies carrying logo of State Government was given away to all the first five winning teams.
We thank all the participants, welwishers, supporters, Mr Shivu Shivappa, VU2PUP, Department of Youth Empowerment and Sports, REVA University for making this event remarkable success.
IIH thank all the hams for keeping the frequency 145.000 free & Netcontrollers Mr Prakash, VU3PNN & Mr Rajan, VU3JYT for announcing on the local nets.
73
Dr. S.Sathyapal, VU2FI Game Control, IIH Radio Sports,