About us
INDIAN INSTITUTE OF HAMS (IIH) was established as a registered trust in 1993 for promoting Amateur (HAM) Radio in India, has reached yet another milestone of completing 25 years of continuous service. IIH is founded by Dr. Sathyapal, VU2FI and Sri. R.J.Marcus VU2VTM
IIH is actively associated with Department of Youth Empowerment and Sports, Government of Karnataka having established Ham Radio Station and training centre at Kanteerava Outdoor Stadium, Kasturba Road, Bengaluru -560 001, India.
Indian Institute of Hams is affiliated to National Institute of Amateur Radio (NIAR), Hyderabad and Institutional Member, Amateur Radio Society of India (ARSI).
Since inception, IIH has made tremendous strides in awareness on amateur radio and increasing population of Hams by approximately 10000 hams in INDIA, with its members spread all over the world. From its early days, IIH was well recognized for its activities and received "RAJIV GANDHI AWARD" for two consecutive years in 1995 and 1996 for best promotion of ham radio activities in India, award was presented by Smt. Sonia Gandhi who is also a Ham with a call sign VU2SON.
---
Orientation on Ham Radio operating procedures :
Orientation on Ham Radio operating procedures : It has been observed that few HAMs are not adhering to proper operating procedures on Ham bands and also while checking in to the roll call nets. As most of the new Hams are from IIH, it is felt that the Orientation programe is necessary for the new HAMs. So,an interactive session on operating procedures will be conducted at Indian Institute of Ham, Ham Radio Station, 2nd floor, Kanteerava Outdoor stadium on Saturday 11th Jan. 2020 at 1800 hours. Orientation also includes how to control roll call nets, setup simple external antennas and to radiate proper signal either on simplex or through repeaters etc. All IIH members please do attend. Regards, Dr.S.Sathyapal, VU2FI Director., IIH
New ASOC exam classes
HAM RADIO Classes will be conducted only on SUNDAYS:
Gate No: 3, First floor, VIP Hall, Kanteerava OUTDOOR stadium, Kasturba Road, BENGALURU-560 001
REGISTRATION FOLLOWED BY REGULAR CLASSES:
On Sunday, 15th December 2019 Registration starts from 9.30am to 10.15 am. Class will commence from 10.30am Two more classes on Sundays : 29th December 2019 & 5th January 2019 between 9.30 am - 3.00 pm. Dates are subject to change.
Note: Batch consists of 3 to 4 classes considered as one batch. ONLY 50 SEATS are available.
For Admission:
Please carry three passport size photos, Photocopy for date of birth proof: Passport or X standard Marks card or date of birth or aadhar card (Any one of these)
Training Schedule:
8th December 2019: Introduction to Ham (Amateur) Radio with live demonstration & interaction. 15th November 2019: (9.30am to 3.00 pm)
Ham Radio rules, regulations and operating procedures.
Basic Elections: Semi conductors
Communication
Radio Propagation, Aerials and Transmission lines.
Requirements:
1) Three Passport size photos.
2) Date of birth certificate (Copy of SSLC Marks card, Passport, Certificate from school principal stating date of birth as per the records). No other documents are valid for examination. Attested copy signed by Govt. Gazetted officer only
3.Examination for this batch will be conducted during April 2020 (provided applications are required in time with all enclosures) by the Ministry of Communication and I.T., Government of India for grant of HAM (Amateur) Radio Operating license,
Registration Contact: Dr. S.SATHYAPAL, Director-IIH
Cell: +91 94483 02677 or e-mail: ham7388@gmail.com

Nadoja Dr. Mahesh Joshi,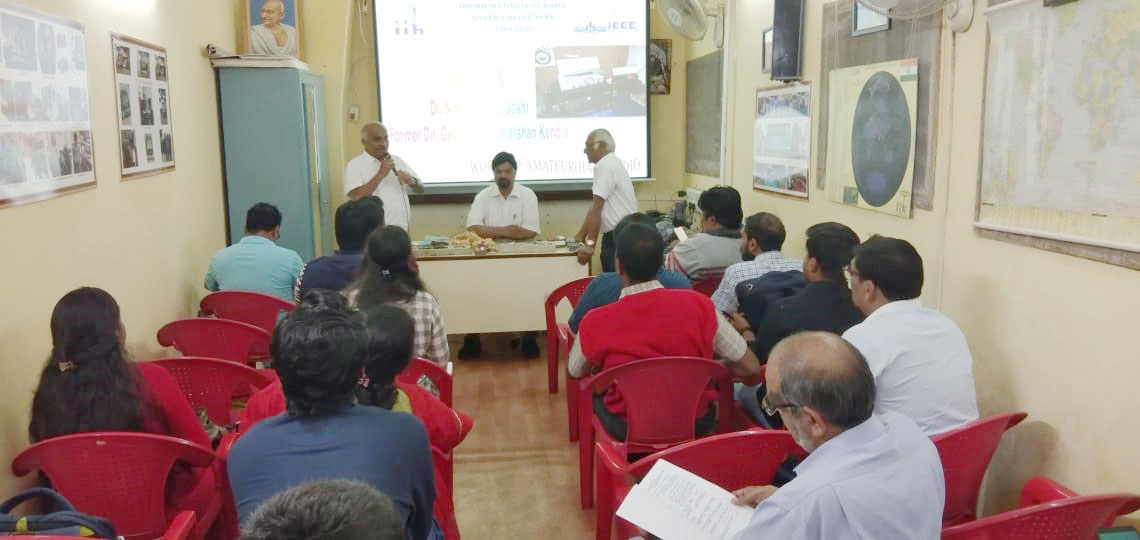 Dr.Satyapal. VU2FI, introduces Dr. Mahesh Joshi,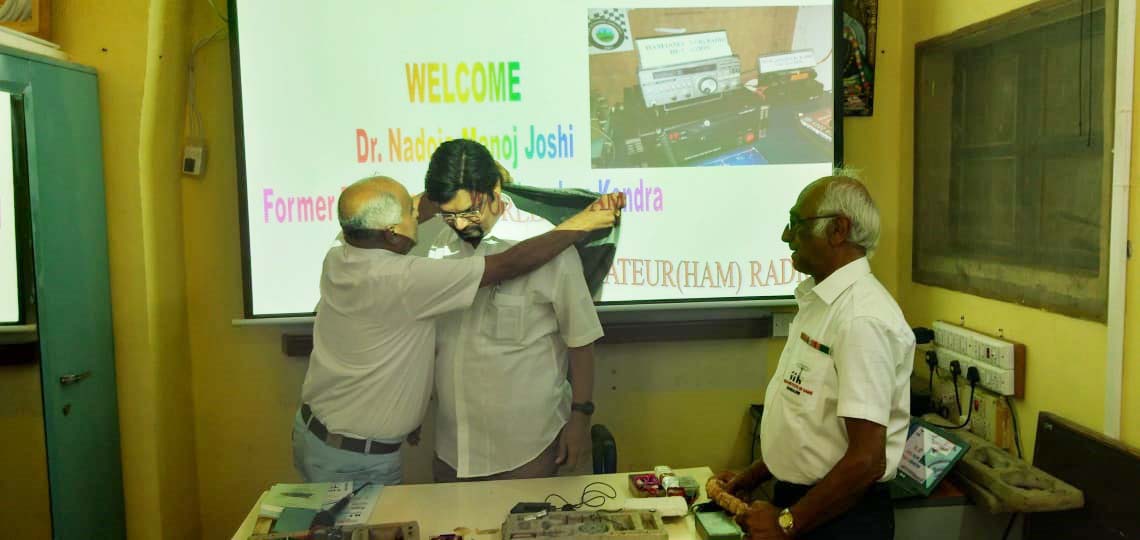 DR.Mahesh Joshi, being honoured and Marcus VU2VTM looks on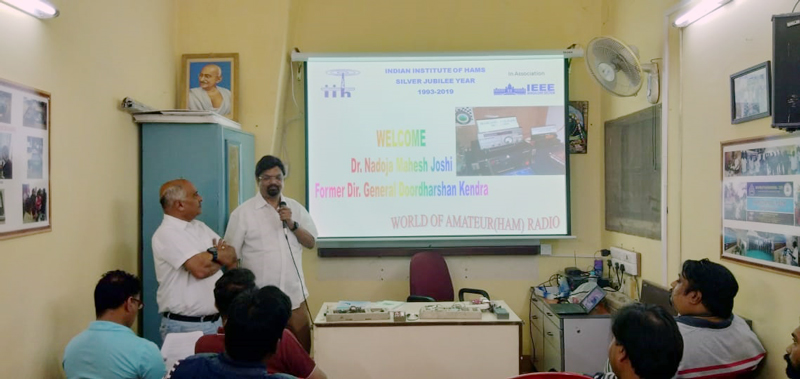 Dr. Mahesh Joshi , invites the participants to Civil Defence Force.
VU2FI brief Dr. Mahesh Joshi, about the activities of IIH.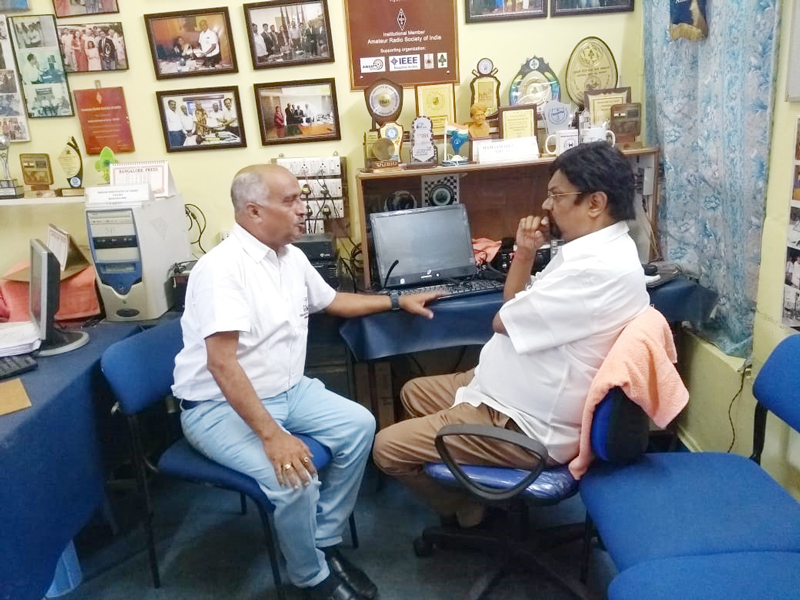 VU2FI Dr. Satyapal and Dr.Mhesh Joshi in the HAM Station - IIH


Visits IIH Jan 05, 2020
Dr. Nadoja Mahesh Joshi,
Former Addl. Director General, Dooradarshan Kendra,
Additional Chief Warden & Officer Cammanding (Awareness and Communications) Karnataka Civil Defence Corps
visited Ham Radio Station located at Kanteerava Outdoor stadium and enrolled as a member to seek Ham Radio operating license from Ministry of Communication.
He was introduced to all new Ham aspirants. Dr. Joshi spoke on importance of becoming CIvil Defence warden.
He has gone through the activities of the Ham institute and Ham Control room, appreciated the setup. Sure with his association we can extend good support to KCD during crises.
Dr. Joshi is one of the icon in Kannada Industry and eminent personality in Press and Electronic media. We welcome Dr.Joshi as a member of this Institute.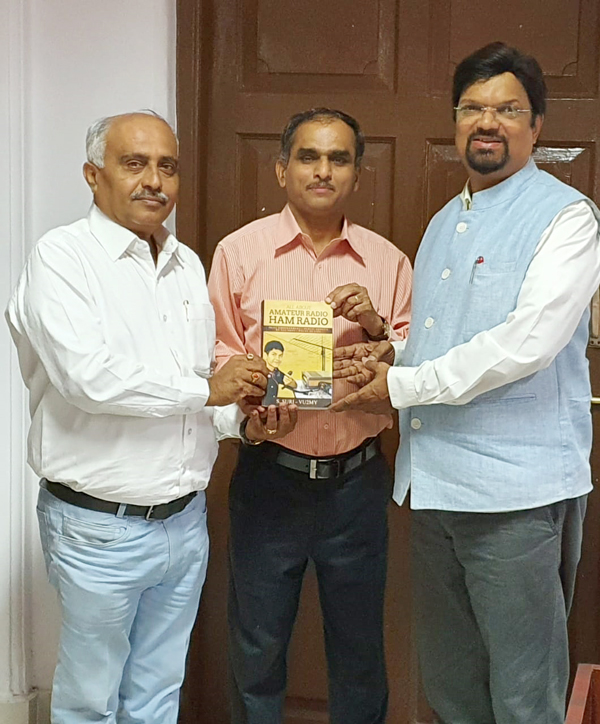 "Amatrue HAM Radio" the book authored my Mr Suri VU2MY, was presented to Dr.Charles Lobo, Chief Postmaster General, Karnataka, by Dr.Satyapal VU2FI and Dr.Nadoja Mahesh Joshi Former Additional Director General, Dooradarshan Kendra